I did not think i would buy another Beelink/AZW product after the issues and support problems with the Z83-II, but this was a good price (£135 in a Amazon flash sale, £159 standard price), and had a familiar Apollo Lake chipset and is FANLESS. The aluminium build quality feels premium, and now has the much improved new Beelink logo on it.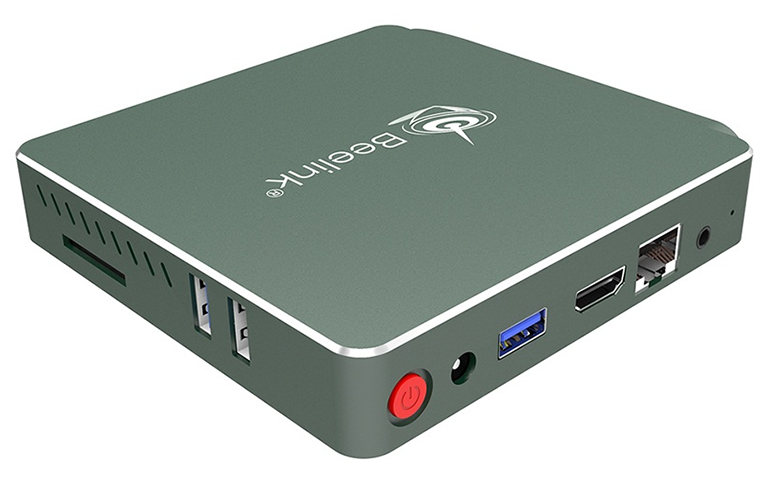 Beelink AP34 at Amazon.co.uk, it can be found much cheaper if you want to purchase direct from China. The AP42 is available with N4200 processor, in reviews this was not found to be that much faster in real world usage.
Specification
OS: Windows 10 Home
Intel CPU: Intel Processor Apollo Lake N3450; 2M Cache, up to 2.2 GHz
Processor Graphics: Intel HD Graphics 500
Installed RAM: DDR3 4GB
System Disk: (C:) 57.5 GB
Ethernet: 1000Mbps LAN
WIFI: Dual band WIFI
Bluetooth: BT 4.0
Antenna: External WiFi antenna
Expand Memory: SD Card (Support 128GB)
DIY SSD: maximum 320GB
Setup
After initial setup (Location, Microsoft Account etc), you are presented with a clean build of Windows 10, no extras installed, there are a few links to games (added by Microsoft) these can be quickly and cleanly installed. There was quite a few updates to perform as it has Anniversary Edition (1607) installed, so it takes an hour or so to update to Fall Creators Edition.
I downloaded the latest Intel Graphics/Display Audio Driver which at the time was 15.46.02.7729.
Install the Intel Driver Update Utility.
Update the Realtek Audio and NIC, these can be updated to the latest stable builds by opening the Device Manager, Right Click and select Update Driver on each of these items:
Realtek PCIe GBE Family Controller
Realtek High Definition Audio
You can install the latest Realtek drivers from http://www.realtek.com/en/downloads/
I installed 3D Kodi build using the same method as in Gigabyte Brix BXBT-1900 – Windows 10 Kodi 3D MVC Setup, and set up using the same settings (I copied some of the Kodi settings XML's to the Setting folder to speed up configuration), changing the Audio back to WASAPI
This box does not have the dreaded DP to HDMI 2.0 issue as it is HDMI 1.4b only, so that does mean 4K @30fps rather than 60fps, so the resolution was set to 1080p and Hardware Based 3D was detected by Kodi in the system > video settings.
Playback
2D
All 2D films played without a hitch with DTS-MA and TrueHD.
3D
Hardware 3D played fine with DTS-MA and TrueHD, but sometimes the films started out of sync, a quick push of the rewind button fixed this, which is the same for the J4205-ITX build. If you are not bothered about seeing the DTS-MA or TrueHD light on your amp, then turn off Allow Passthrough setting in System > Audio settings and this seems to fix the sync issue.
If you are getting a juddering effect when 3D is playing, make sure you try setting the HDMI input of the TV to PC Mode as that seems to fix it (With my LG OLED TV anyway), Bluray mode seems to add extra processing to the picture which the computer does not like.
Power
UPDATE 24 Sep 2017:
With new power monitor readings the idle power consumption is 3.5W, and paying a 3D MVC film is 5.4W, this does compare well to the J4205-ITX NAS @ 19W-25W.
The power consumption is around 7-9W, it might be lower as meter was reporting wattage when nothing was plugged in (3W). I will add the correct figures when my new meter arrives, this does compare well to the J4205-ITX @ 19W-25W.
Verdict
This is an amazing machine for the money, performs exceptionally well as a media centre machine. This has become my main media playback device leaving my J4205-ITX to do NAS/Emby/Transcoding work.
5 Stars for this Beelink for the unit, their support does seem better you can at least download Windows 10 configured image from the website.
I would personally rate it higher than the Gigabyte Brix BXBT-1900 mainly due to the fact that this one is silent and all the bits I have to buy for the barebones Brix are included with this one (Windows 10, RAM and SSD)
UPDATE 16 Oct 2017:
Updated smoothly with the Windows 10 Fall Creator Update.