Really Simple Document Filer came about because a document management product I used to use became prohibitively expensive for home use ($39 initially, to $10 a month. I tried a few open source products, and looked at a few paid products but no point trying them as I do not want a subscription license. I could not find one I liked so I decided to write my own with the features I use. Really Simple Document Filer does not have some of the advanced features of other products, but is powerful enough for home/small business use.
Due to the cost of running the blog and buying the security certificate to sign the program, this has had to be my first paid program on rewster.uk. The full version only cost $20 which includes minor version updates.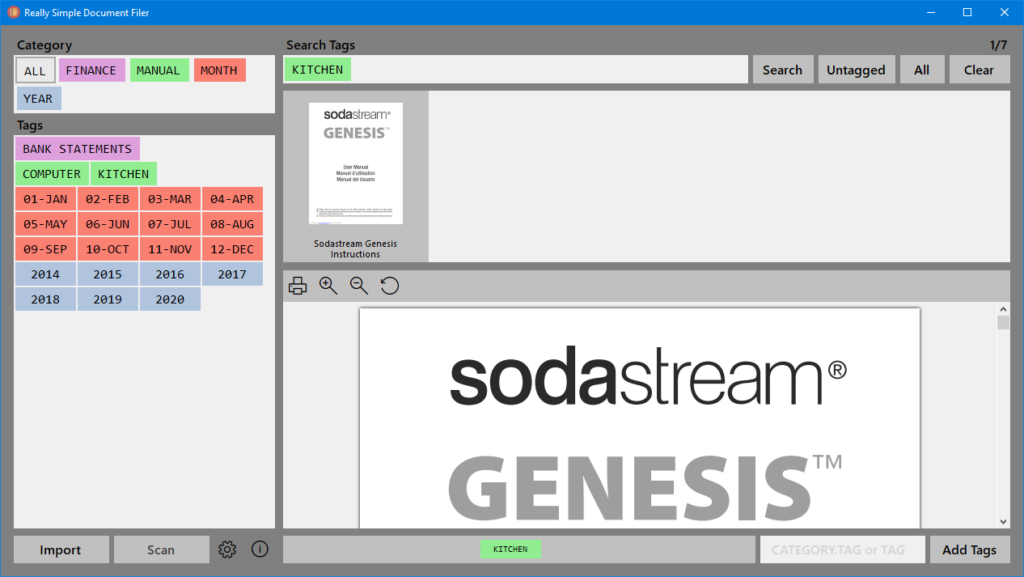 Features
Import your documents, tag them, then easily find them when you need them.
No tie-in, documents are left untouched.
Unlimited Tags.
Unlimited Documents.
Search is done as tags are added or removed, getting you to the document you need faster.
Coming Soon: Scan documents within RSDF, 'OR' search filters.
Trial Download & Purchase
The trial is limited to ONLY searching the first 20 documents, max of 20 results, so try to import less than 20 documents whilst trialling the software. This should give you an idea of what the software can do.

Changelog
1.3.4
Clean up old tag/thumbnail files after schema change update.
1.3.1
Changed the configuration filename extension (rsdf_tags, rsdf_thumbnails), to make document folder clean-up easier.
Corrected the added tag size in the demo tour.
removed change colour on ALL tag.
Show Major,Minor and Build number on about dialog.