This is version 2 of the surround speaker experiment, see Styrofoam Surround Speakers with Audio Exciters, as it worked very well I now want a more permanent solution.
This time I am using a 120cm x 40cm x 4mm Forex Foam Board, I have purchased this from posterlounge.co.uk as they have artworks this size, I have selected an abstract piece but they have nice cityscapes and scenes, so worth a look.

Even though this is to be a surround speaker, for the in room sound demo below the speaker is connected to the front speaker connections on the amp to show it working as a full range speaker, again the track is Deep Forest – Sing with the Birds.
And again with Diana Krall – Temptation:
Installation
The board is mounted differently than with the Styrofoam version, I have used 2 hooks attached to the wall with Command tape (5.4 Kg rated), using the corner protectors from the Posterlounge box they created a foam platform that is placed onto the hooks this is so it can be adjusted and moved and removed easily. To stop the board leaning forward 2 pieces of the edge protector (again from the Posterlounge box) are mounted level horizontally to the speakers this stops them touching the wall and the gap acts as a channel to get the cable to the middle conduit. The temporary conduit is the support Posterlounge put around the edge of whole box. Yes, the Posterlounge packaging has been very useful.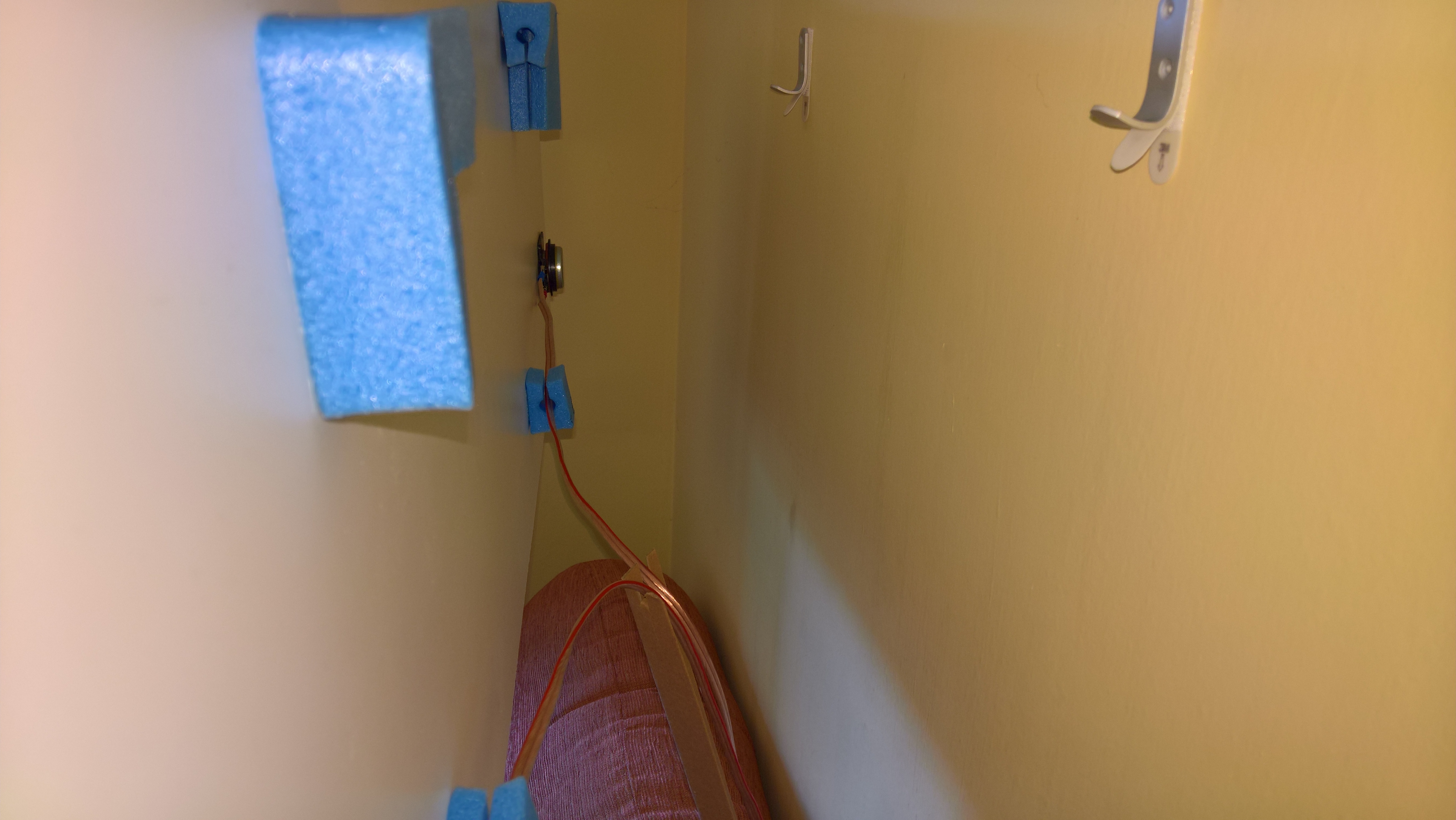 Conclusion
Comparing the Forex against the Styrofoam, I must say that in my opinion for music only the Styrofoam is marginally better sounding, this maybe because it is stiffer, but both would need bass reinforcement if used for this purpose.
Used as a surround speaker it integrates very well with the front speakers and creates a nice well balanced surround, my main testing discs were:
Films:
Planet Earth II 4K Bluray (Marine iguana scene, just amazing and exciting)
Sully 4K Bluray (Start sequence)
IT 4K Bluray (just the creepy child singing 'Oranges and Lemons' around the speakers at the start and the rainfall is enough)
Gravity 3D Bluray (Initial satellite strike, speech from individual speakers)

Music (5.1):
BT – Electronic Opus Bluray 96Khz lossless 5.1 DTS-MA Mix (whole thing sounds amazing)
This project was to create a discrete surround sound speaker both the Forex and Styrofoam would both work very well for this purpose, so it is down to budget, the Styrofoam (90cm x 30cm) is £6, the Forex artwork (120cm x 40cm) is £55 (I used a discount coupon so was £47).