If you want to encrypt your system drive with BitLocker then your computer requires a TPM module or you will be required to type a password on boot up.
There is no TPM module built onto the J4205-ITX, so you need to purchase the correct TPM Module from Amazon.co.uk here (should be around £14 delivered)
The motherboard has a TPM Header slot that is keyed so the module can only fit one way (the chip on the TPM module faces outwards).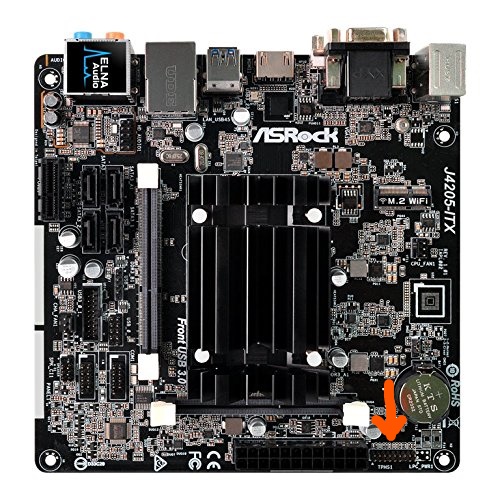 Once the module is installed restart Windows, the TPM will be automatically installed and initialized.  You will be able to see the TPM Module in the Device Manager > Security Devices > Trusted Platform Module 2.0:

Since the Windows 10 Fall Creators Update, there is minimal configuration required, in fact the only option in the TPM configuration is Clear TPM, to see the configuration WinKey+R to the the run dialog box and type TPM.msc.
Now in Windows Explorer you can right click the drive you wish to encrypt with BitLocker and select 'Turn on BitLocker', make sure you backup the recovery key to either your Microsoft Account, USB Key Drive or Print it.
What drives you protect depends on where data is store, my OneDrive personnel data is on the C: drive, so i have protected this, my Z drive contains my Videos and Music, so bitlocker is not required.
Further information can be found at: