UPDATE: On the 25th January, with no changes to my computers and phone, the syncing restarted so i don't know if Microsoft had suddenly turn something back on.
At the moment my Edge favourites are not syncing due to an issue that Microsoft does not seem to acknowedge or attempt to fix. There are many reports on the web and the Microsoft support forum seem to give the same canned answer and no solutions are given.
Some (including Microsoft) recommend trying the Microsoft Account diagnostic tool (microsoftaccounts.diagcab), that finds issues but has no information how to fix, ie 'Cannot connect to Sync Server' or Not connected to Internet when you are definately connected.
While waiting for a solution from Microsoft, here is a workaround to get your favourites on all your computers.
Follow the Backup Edge Favorites Script guide before going further.
Resilio to Sync Edge Favourites
I am using Resilio as it is FREE, and it alsos syncing of folder on any path (some just have a fixed sync folder)
Download Resilio Sync for Individuals.
Install the software on each computer, make sure the Identity name is identical on all computers (FIRSTNAME LASTNAME is the default)
On one computer click Add Folder
Add the following folder as Standard Folders:
%LOCALAPPDATA%\Packages\Microsoft.MicrosoftEdge_8wekyb3d8bbwe\RoamingState
Click the option for the RoamingState folder and click Copy Read & Write Key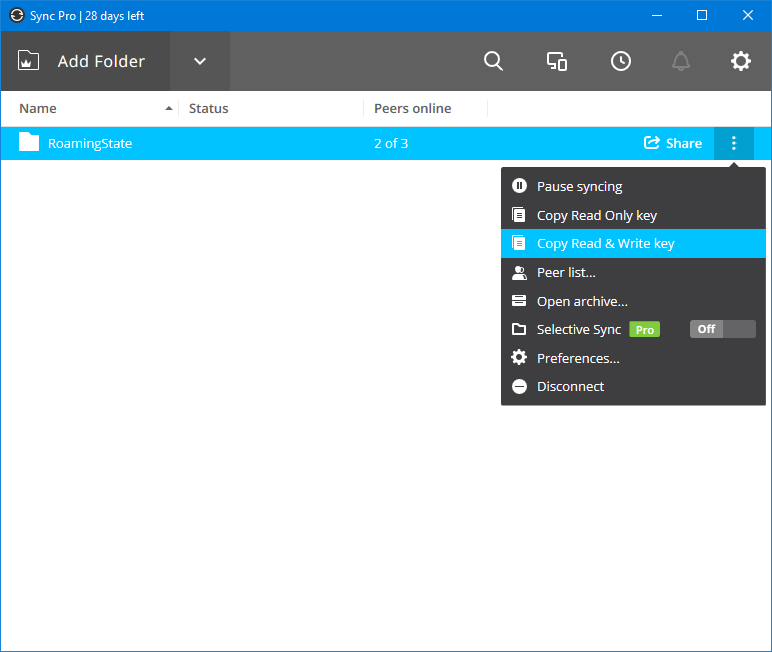 On each computer click Add Folder, but this time select Enter a Key or Link at the bottom of the menu.
Add the Key that you copied carefully, then browse to the same folder that the key was retrieved from.
You will get a warning that the folder contains data, click Confirm.
The folder(s) will now sync on each computer.